The Dunnís River Falls has some cafeterias serving an array of goodies. Here you can find authentic
Jamaican dishes
from curry to jerk delicacies, refreshing cold drinks and tasty snacks. It is just the perfect place for many reasons as you can see. It doesnít matter what your interests are, there is something exciting for you at the Dunnís River Falls. This Jamaican waterfalls is more than water rushing down the slopes; it offers a complete day of fun and activities.
If picnicking is your forte, then the Dunnís River Falls Park is for you. The picnic facilities are suitable for the entire family where they can engage in fun and relaxation. The preservation of the natural environment blended with modern facilities gives Dunnís River Falls and Park the perfect balance.
Every few feet up the Dunnís River Falls something new is discovered. You will find shallow pools suitable for children some deeper than others. There is a natural ďmassage parlorĒ; this is where you can pause for a while and experience the comforting effects of the water cascading over your body. Dunnís River Falls is one of the few places in the world that has a combination of beach and falls. In fact the Dunnís River Falls flows directly into the Caribbean Sea. This goes well for the sun worshippers as the beach is immaculate and allows for basking in golden rays.
The Dunnís River Waterfalls extend over six hundred (600) feet in length where several pools are formed between the cascading falls. One of the favorite activities at the Dunnís River is climbing up the falls. Climbing the Dunnís River Falls is relatively easy. However, most times this is performed with the help of a tour guide forming a human chain with him leading the way. If you are not the type who want to get wet then you can walk alongside the Dunnís River Waterfalls all the way to the top, appreciating the special beauty of the tropical vegetation.
Dunnís River Water Falls is perhaps Jamaicaís best known tourist attraction. It is easily accessible as it is situated just about five (5) minutes from one of Jamaicaís premier resort areas; in
Ocho Rios
, St. Ann.

Dunn's River Falls

Copyright© BestJamaica 2014 all rights reserved.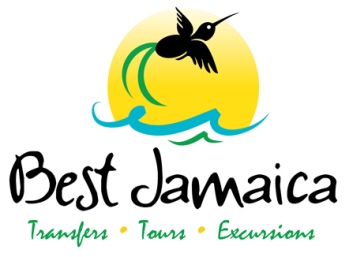 Best Jamaica the most guest centered Tour Company on the island would love to provide you with PRIVATE transportation to the Dunn's River Falls. In keeping with our policy of creating value for money twinning this tour is a great way of enjoy a day of excursion here in Jamaica. The
Blue Hole
,
Horseback riding
or visiting the historic Shaw Park Garden are all great options.