Montego Bay Jamaica is one of the Caribbean's leading holiday destinations for quite some time now. From the early 1900s American tourists were already traveling here regularly on old steam ships that were used to facilitate the banana trade. Situated on the northwestern side of the island, this little vacation getaway is known for its charm, tourism hospitality, beauty and splendor. The town has a population of approximately 150,000; the city streets are busy, colorful and lively complimented its many bars, shops, in-bond stores; crafts market and restaurants of which all seem to be in close proximity.
The hotels are rated among the best and range in all different prices to suite ones pocket. There are many sources which provide Jamaica travel deals all year round. Finding a good resort here should not be difficult. The inception of the all-inclusive hotel packages gave rise to the construction of many new hotels. These hotels range from small family properties to luxurious five diamond. They are mainly beach properties sprinkled along the coast.
This tourist destination has all the necessities for a great vacation. The beaches are second to none. The well manicured majestic golf courses. The many splendid hotels which are challenging for business resulted in service being their number one priority. The nightlife complimented by its unique cuisine which is only a little of what Montego Bay Jamaica has to offer.
While Kingston is the reggae capital, this western city has a penchant to host some of the biggest reggae concerts in Jamaica. The home of Reggae Sumfest, the Jamaica Jazz and Blues festival and a host of others which draw thousands of visitors to its wonderful shores annually.


Montego Bay Jamaica
Vacationing in this lovely Jamaican city puts you in the central point of the other two major tourist destinations. Negril is 50 miles west and
Ocho Rios
is 67 miles to the east making it even more attractive because of its useful location. Montego Bay got its name in a somewhat unappealing way. The name is derived from the word "manteca" which is a Spanish word for Lard. This area was a leading hunting ground for wild hogs which the Spaniards used to make "hog butter". Thus on some historic atlas it is shown as Lard Bay.

Copyright© BestJamaica 2013 all rights reserved.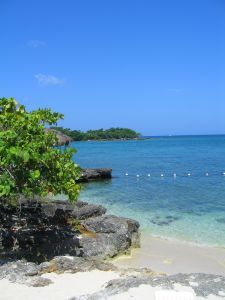 We are Best Jamaica.. we know " Jamaica Vacations" Best